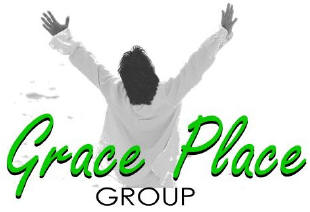 Grace Place International is designed to be a companion ministry for Believers all over the world. Not only can you enjoy the benefits of the GPI ministry resources, but you may want to start a GPI GROUP!

WHAT IS A GPI GROUP?

It's a small group of Believers, coming together

to experience our G - R - A - C - E acronym,

just like the early church in the book of Acts!

►

Gathering Together (Fellowship)

Acts 2:46

So continuing daily with one accord in the temple, and breaking bread from house to house, they ate their food with gladness and simplicity of heart

►Reaching Out

(Evangelism)

Acts 2:47b And the Lord added to the church daily those who were being saved.

►Abiding in the Word

(Discipleship)

Acts 2:42a And they continued steadfastly in the apostles' doctrine…

►Caring for One Another

(Service & Ministry)

Acts 2:45 and sold their possessions and goods, and divided them among all, as anyone had need.

►Exalting the Lord

(Worship)

Acts 2:47a praising God…

ARE THERE DIFFERENT KINDS OF GPI GROUPS?

YES! Not every group is the same!
The GPI Groups listed below are defined, not by what they do, but rather by who is involved in the group and when and where they meet:
1. GPI G4 GROUP

This group is you, the Father, the Son, and the Holy Spirit!
Perhaps you are confined to your home, or you simply want to have a private time with your GPI G4 GROUP! This group works,
no matter where you are!
2. GPI HOME GROUP

This group is be made up of your family and/or friends.
It meets once a week in homes, usually on a regular schedule. If you are a member of a local church, you can still lead or be part of the GPI HOME GROUP. Some may be ready to start a home church, and this group would work great for that concept.
3. GPI ON-THE-GO GROUP

This group is made up of family and/or friends. It meets at various times, depending on the schedule of those that are part of the GPI ON-THE-GO GROUP. It can meet in homes, businesses, schools, restaurants, parks, or anywhere it is convenient for those involved. This group is more flexible with times and locations.
HOW TO START A GRACE PLACE GROUP!
Establishing a Grace Place Group is easy. Talk to yourself about a G4 Group, or your family and/or friends about what kind of group to begin. Then decide when and where you are going to meet. Look at the GPI Group Resources to see what resources would work best for your group, then download whatever you need. It's that easy!
Then, simply BEGIN!
GPI GROUP RESOURCES!
The purpose of each GPI Group is to fulfill the G - R - A - C - E acronym through fellowship, evangelism, discipleship, service / ministry, and worship. Though each GPI Group will experience all of these, some GPI Groups may emphasis different aspects, depending on the talents and callings of those attending the GPI Group. Below are GPI Group Resources that are designed to aid in fulfilling the G - R - A - C - E acronym through fellowship, evangelism, discipleship, service / ministry, and worship
INTERACTION BIBLE STUDIES WITH SIMPLE GROUP GUIDELINES!
FREE DOWNLOADS!
►GRACE PLACE KIDS BIBLE STUDIES
INTERACTION BIBLE STUDIES! FREE DOWNLOADS!
BOOKS & PAMPHLETS FOR ADDITIONAL STUDY!
FREE DOWNLOADS!
PERSONAL STUDY OR TEACHING OUTLINES!
FREE DOWNLOADS!
NEW SING-A-LONG WORSHIP VIDEOS!
FREE WORSHIP MUSIC!
SPEND PERSONAL TIME IN WORSHIP!
►EARTHLIFE ENCOURAGEMENT VIDEOS
WITH GARY & VALLETA LANIER!
SEND US YOUR PRAYER REQUEST!
BECOME A FAN FOR DAILY ENCOURAGEMENT!
THE GPI STAFF IS AVAILABLE FOR YOU!
HOW TO AFFILIATE A GRACE PLACE GROUP!
No affiliation with Grace Place International is required, unless you want to.
To affiliate a GPI Group is easy! Simply notify GPI that you are hosting a GPI Group and we will be proud to post your location on the web!
Simply email: info@graceplaceintl.org

DISCOVER KINGDOM LIFE TODAY!
START A GRACE PLACE GROUP!