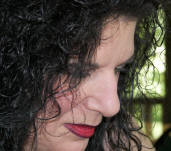 Grace Place Insights
by Valleta Lanier
Articles:
1. WHAT DOES WORSHIP MEAN TO ME?
2. INGREDIENTS OF AN EFFECTIVE PRAYER
3. DREAM :: SHIFTING OF THE EARTH'S AXIS
Revelation 4: 9-11
And when the living creatures give glory and honor and thanks to Him who sits on the throne, to Him who lives forever and ever, the twenty-four elders will fall down before Him who sits on the throne, and will worship Him who lives forever and ever, and will cast their crowns before the throne, saying, "Worthy are You, our Lord and our God, to receive glory and honor and power; for You created all things, and because of Your will they existed, and were created."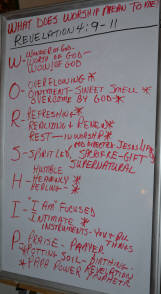 Recently, at one of our GPI Group gatherings, after spending some time worshipping together we suggested that each person consider the question, "What does worship mean to me?" We read the key verses above and talked about what it must be like in heaven, even now, around the throne of God.
Then, using an acronym on W – O – R – S – H – I – P, we collected the following thoughts. They are not in order of importance, although everyone in our group agreed that "I AM" FOCUSED needed to be #1. Some of the words below describe "what" worship means, and others describe the "results" of worship in our lives. Perhaps you have some thoughts about what worship means to you.
W –
Wonder or Wonderment of God
Worth of God
WOW of God!
Wisdom of God is revealed.
O –
Overflowing – It has an impact on others
Ointment – A sweet aroma to God
Overcome by God
Openness to God
Obedient to God
R –
Refreshing
Realizing & Renewing – You realize the greatness of God and are continually renewed.
Rest in Worship – Worship is not work, it just flows.
Relationship with God
Relevant
S –
Spirit Led
Sacrifice – It is a gift to God
Supernatural or Spiritual
Solitude with God
H –
Humble – Me before God
Heavenly
Healing
Heart of God – It is expressed to me & mine to Him
Help from God
I –
"I AM" focused
Intimate
Instruments - You and all things
Inviting God into my life
Incredible work of God
P –
Praise
Prayer
Potting Soil – We become fertile soil for revelation & the prophetic.
Papa Power!
Purpose for God's people
Power of God
©Copyright 2011 by Valeta Lanier. All rights reserved.
---
INGREDIENTS OF AN EFFECTIVE PRAYER
I recently taught from 1 Kings 18:41-45 with a look at Elijah's EFFECTIVE PRAYER that brought rain after 3 1/2 years! So much to learn from what he did... and James 5:17 reminds Believers that we are just like Elijah... except even more... we have ALL of God's power within us! The outline is below...
1. HEAR (verse 41) Elijah HEARD the rain BEFORE it rained! A clear message to him from God that is was time for rain. He had FAITH in what he heard. Whatever "rain" you need, to pray an EFFECTIVE PRAYER, listen closely for God's direction. He will lead you about when and what to pray. Then have faith in what you HEAR as you pray.
2. EARNEST (verse 42) Elijah crouched down to the earth, with his face between his knees. He was praying an EARNEST prayer. There are many different kinds of prayers, but an EFFECTIVE PRAYER is one that you put your whole heart and soul into.
3. FOCUS (verse 43) Elijah never raised his head to see if the rain was coming. He sent his servant to look, while he stayed FOCUSED in prayer. The enemy of God will do everything he can to distract you from an EFFECTIVE PRAYER. Why? Because he knows it brings BIG results. Don't let ANYTHING or ANYONE keep you from your FOCUS for an EFFECTIVE PRAYER.
4. PERSISTENT (verse 44) Seven times Elijah sent his servant to look for evidence of rain. Each time his servant said he saw nothing. Even so, Elijah did not stop praying. He did not stop to look himself, or quit after each time his servant reported nothing. He stayed PERSISTENT. So many times, when we don't see the evidence of "answered" prayer we quit. To see the results of an EFFECTIVE PRAYER, one that God has told us to pray, we need to be PERSISTENT.
5. PREPARE (verse 44) Finally Elijah's servant saw a small cloud far in the distance, that appeared to be the size of a man's hand. When he reported that to Elijah, the EFFECTIVE PRAYER stopped! Was it raining? NO! Was it coming? YES! Elijah had all the report he needed! He knew it was time to PREPARE for the blessing that was coming. So he ordered his servant to tell Ahab to leave, before he was caught in HEAVY RAIN! That is PREPARING FOR & EXPECTING A MIRACLE! And before long, the sky was filled with black clouds and there was heavy rain. An EFFECTIVE PRAYER delivers GOD'S POWER. Are you PREPARED for the blessings? God will bless the EFFECTIVE PRAYER!
The results of Elijah's prayer were obvious, as the dry land was quenched and burst forth with fruit. Plus, Elijah, after spending time in prayer was filled with SUPERNATURAL POWER to run! What need do you have today? God wants you to experience His SUPERNATURAL ABUNDANCE in your life. Perhaps He is calling you to a time of PRAYING AN EFFECTIVE PRAYER.
©Copyright 2011 by Valeta Lanier. All rights reserved.
---
DREAM :: SHIFTING OF THE EARTH'S AXIS
DATE OF DREAM :: Mid December, 2010
DATE OF RECORDING :: February 4, 2011
GIVEN TO: Valleta Lanier
PART ONE :: OVERVIEW
I believe that today, God still speaks to people in many ways. He speaks through the written Word, through others, through revelation and righteous thoughts guided by the Holy Spirit, through situations we find ourselves in on a daily basis, and through dreams and visions. Many people do not believe God still uses the latter_ dreams and visions, and that's OK! But for me, the New Testament has many recordings of accounts where God used dreams to bring knowledge and warnings to His children. I believe the same holds true for today.
I am a dreamer. Not in the sense of daydreaming, but I dream almost every night. I don't think every dream I have is from God. Sometimes what my eyes, ears, and mind have taken in during the day has an impact on my dreams. And the circumstances and worries I am living in daily may cause me to have a dream that comes from my soul. Can God speak to me through these dreams? Yes. I can meditate on what I have dreamed and realize that I am taking in either good or bad information, and I need to change my focus. Or I may be letting a negative circumstance control my earthlife, and I need to focus on His ability to see me through. However, there are times when I have a dream that is coming directly from God. It has nothing to do with what I have been focusing on during the day, or a circumstance I am living through, and the message of the dream is so impacting that it grabs my attention and won't let me go. Many of these dreams I have written down, and found that they have multiple interpretations and are helpful for many years.
So it is with the dream I had in mid-December of 2010. I did not record it the morning I woke up, so the exact date is not certain. However, every detail of the dream continues with me, as if I had just awakened. So, I am taking this opportunity to record it and share it with others.
PART TWO :: THE DREAM, SHIFTING OF THE EARTH'S AXIS
<![if !vml]>

<![endif]>The dream began in darkness. I could see nothing. Suddenly I heard a voice, saying... "The earth's axis has shifted by ¼ of an inch." Over and over the voice said to me, "The earth's axis has shifted by ¼ of an inch." Over the years I have heard many voices in my dreams, some of which I have come to recognize as the voice of the Holy Spirit, the Lord Jesus, various people (some known and some unknown), angels, and demons. This was an announcement voice. It was not God, the Holy Spirit, or Jesus. It may have been an angel, but if it was, it never made its appearance known. It just kept tell me the same message, over and over... "The earth's axis has shifted by ¼ of an inch."
I remember thinking, in my dream_ "So what?" One fourth of an inch did not seem like very much to me, especially in light of how big the earth is. I wondered why this message was so important. What possible harm could ¼ of an inch shift do to the earth?
<![if !vml]>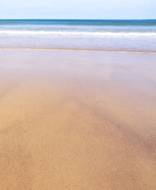 <![endif]>Suddenly the dream changed. I was observing the ocean. It was quiet, with peaceful tiny waves moving in and out of the shoreline. My view of the ocean, crystal clear and beautifully blue, stretched out beyond the horizon as far as I could see. The sky was clear and bright, with the horizon of the ocean as the only distinction that marked a division of the beautiful blues. The beach was perfect white sand. It stretched for miles on each side as I glanced to my right and left. There were no trees of any kind, and the sand was unmarred by any debris. Not one stick or stone. It was a perfect beach and ocean setting.
With one exception... there were houses built on the ocean front, about 100 yards from the ocean. All of the houses were exactly the same. Each one had two stories, built on a square frame with one tall pitched roof. They all sat on the beach in a row, with about 200 yards between them. As I looked from my right to left, I was amazed at how precise they were. Then I noticed that these big houses were only frames. The complete frames were in place, with windows, doors, and the second story floor but no walls. You could see through all of the houses.
Again the dream changed. Now I was standing on the second story floor of the house that was right in the middle of the long row of houses, looking out toward the ocean. I suddenly realized there had already been a very bad storm and EVERYTHING in the first floor of all the homes had been washed out to sea. It was as if I could "see" into the past and relive what had happened. A mighty storm had brought the ocean so far inland that many lives had been lost and there was severe loss of property. Everyone on the beach front had lost EVERYTHING that was in the first floor of their homes. It had all been washed out to sea. They were completely empty. So empty that there was no evidence that anything had ever been there. Everything was completely gone. However, as I looked at the homes, I realized there was nothing in any of the homes... the second floors were empty also. I did not see any people, just empty homes that I could see through, because there were no walls.
<![if !vml]>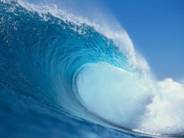 <![endif]>Now the dream changed again. As I looked out to sea a great wave began to rise. It was pulling the ocean into it, away from the shore. The wave grew higher and higher until it was so far into the sky I could no longer see the top. Extreme awareness suddenly hit me, as I thought_ "When this wave hits the shore it will completely destroy the earth." I looked down on the shore, just below my house and there sat a small wooden boat with an orange "over the shoulder" life jacket inside. I began to question_ "If I could get in this boat, would I be able to ride the wave?" No, was the answer... that would be impossible. I glanced at the life jacket and wondered_ "If I had this on, how long could I hold my breath under a wave that large and live? Would this life jacket bring me back to the top of the water alive?" In the midst of my questions I heard a voice. It was coming from behind me, speaking directly to me, yet it seemed to fill the whole shoreline. "Don't worry... you won't need the life jacket. I am not going to allow this wave to come onshore. I am holding it back." I recognized the voice_ it was God, the Father. I did not turn around, but it seemed I could see Him, with his right arm stretched out toward the wave, as if He had put up a barrier that would keep it from destroying the earth. I woke up.
PART THREE :: CONCLUSION
I am not really interested in science. I don't read books or watch television shows about science. I really don't pay much attention to news reports about scientific events that are happening in the world. So, the theme of the dream, "The earth's axis has shifted by ¼ of an inch", meant nothing to me, nor had I heard or read anything about this subject.
Upon awakening that morning I immediately went to the internet to see if there was anything happening to the earth's axis. To my amazement I found many reports that there has been a shift. In February of 2010 Chile was hit with an earthquake that many scientists believe has shifted the earth's axis. I was shocked.
But my shock was just beginning. In the weeks that followed I began to hear reports on the news that were alarming. First thousands of dead birds were falling from the sky. Many reasons were discussed with no concrete conclusion. Then one afternoon I heard a renowned scientist talking about the phenomenon, describing it somewhat (I have paraphrased as I remember it) as follows_ "Due to the shifting of the earth's axis there has been a shift of the magnetic field from the North Pole. These birds follow a path each year based on the magnetic field, and because of the shift they may have flown into an area that caused this life threatening disaster." Again I was in shock. I kept thinking about the dream. "What do you want me to do, God?", I kept asking.
Next reports came from Australia about flooding. Yes, they had rain, but not enough to account for the floods. Plus, they could not explain how the floods seemed to come from the inside of the country, for no reason. Another amazing report!
One day as I sat in my office working, I could hear the news in the background, coming from the television that had been left on. The reporter was talking about a story that made everyone very uncomfortable. It seems an airport in Tampa, Florida had to repaint their main landing strip, #19. Why? Because the earth's axis had shifted, causing a change in the magnetic field from the poles, it had changed the compass readings in the airplanes. Instead of landing on the main landing strip, #19, they were trying to land on #18. They had to repaint #18 to #19 in order to keep the planes on the right course! I was beginning to realize that God was sending a message through my dream_ a shift of ¼ inch could make a BIG difference.
I have continued to hear other strange news reports that have alarmed me, like the huge wave in California that killed a surfer. They have never seen a wave that high, was the report. Another attention getter! Then recently, Australia was hit with a catastrophic cyclone.
So what is my conclusion? I believe dreams are literal and figurative, sometime one or the other, sometimes both. God is sending a warning through this dream. There are some catastrophic events coming. I do not believe we have seen the first part of the dream yet, with the ocean taking all of the contents out of the lower floor of our homes. Do I think that is literal? For some it may be, for others it is figurative. But one thing I know, God loves us. And He wants you to be warned, for many reasons.
For the last part of the dream, I am thankful. God is standing guard over His people. We are protected by Him, even in the face of certain death. I believe we are going to "see" things that appear to be the end of all mankind. But God wants us to trust in Him. He is our refuge and strength.
I trust this dream is a blessing to your life. Lend your own interpretation to its meaning. God can speak to each of you and His desire is for you to know His heart. Thank you, Father, for this dream. May it be a blessing to the world.
DREAM UPDATE: March 11, 2011 Japan was hit with an earthquake of 8.9, one of the largest in history, with a Tsunami wave coming onshore that has wiped out many cities and killed thousands of people. Another fulfillment of this dream.
©Copyright 2011 by Valeta Lanier. All rights reserved.
---
WANDERING IN GUILT | Author Unknown
Guilt is a debilitating disease. It weighs down countless thousands, sending them to psychiatric wards, hospital beds and graves each year. Tragically, guilt is seldom diagnosed as the real culprit.
Among the suffering masses of guilt-ridden people in this world are outstanding numbers of Christian men and women. Somewhere - lost in these masses - I wandered! Day and night I wandered - carrying weights I had labeled, "If only I had....", and "Bring up a child in the way...." My mind raged with "Why, why, whys." An intelligent, good-hearted, sweet and handsome son had left us, and his Lord, for a life of sin.
At times I put the weights away. I had faith, and I prayed. I believed God's Word and relied on it for strength and courage.
But I still found the handles of those weights wearing thin from picking them up and putting them down again. Each time I picked them up, the guilt feelings multiplied and overwhelmed me.
I wasn't much good to anyone anymore. Many of our son's activities I kept hidden because of what others would think of me. "Well she should have..." "I knew it was coming..."
While the other children cried, "We're here too", my mind struggled, quizzed and bent under the continual beatings of "Ifs" and "Whys." We even made a move - looking for a "better environment."
After several years of "weights up - weights down" syndrome, I heard a statement that helped me put those weights down and leave them down for longer periods of time. For honesty's sake, I readily admit I still pick up those weights now and then, but I don't carry them very long anymore.
Here's how it happened... During some of the blackest months of my life, I was invited to attend a lectureship in Ontario. I had no intention of going. I felt secure in my own world, and after all, I needed time to bask in my misery.
As I look back, I believe the Spirit within me was prodding my spirit, with a degree of urgency, to attend this lectureship. While there I heard many edifying lectures by wonderful men of God. However, one lecturer in particular opened the door of my ram shackled heart and walked right in.
To my great sorrow, I don't remember his name. After this lecture, I didn't hesitate one minute - I walked up on the podium and asked, "Do you believe when a child goes wrong, it is the fault of the parents?" This elderly gentleman, gently wrinkled and very white-headed, looked at me with compassion and asked, "Who were Adam and Eve's parents?"
My mind scanned the scene of the fall of man as this gentleman, time worn and full of wisdom, continued. "You see, Adam and Eve lived in the perfect environment. They had the perfect parent - God. Yet, they chose to sin."
By the time he finished the sentence, others were reaching for his hand to congratulate him on his lecture. Tears streaked my face as I turned and walked away, never to see this man again.
At that moment, I felt nothing more powerful had ever been said to me! Even now, each time I relate this statement to others, I am awed anew at what it means to all of us who suffer pangs of guilt because of our children's actions.
God requires that we teach and train our children in His ways. We must do this in the very best way we know how. But always remember: "Who were Adam and Eve's parents?"
---
AMBUSH THE ENEMY | Message by Gary Lanier, Edited by Valleta Lanier
The enemy of God wants to stop you. He will stop at nothing to keep you from fulfilling your calling from the Father. 1Peter 5:8 says... Be of sober spirit, be on the alert. Your adversary, the devil, prowls about like a roaring lion, seeking someone to devour. He truly is like a lion, and he is seeking to devour you!
My husband/pastor, Gary Lanier shared a message called AMBUSH THE ENEMY, from the book of Joshua. He used an acronym, which he is famous for (HA!). This simple acronym will help you remember how to stay on the ALERT:
A - Arise in your Authority
L - Listen, Learn & Locate
E - Execute from Your Location
R - Receive the Reward
T - Testify of His Goodness
A - Arise in your Authority
In Joshua 7:10 God told Joshua ..."Rise up! Why is it that you have fallen on your face?" I believe we stand with our faces to the ground, when God has set us free! So, let me encourage you to "ARISE" and know that God has a great plan for you, and He has a GREAT PLAN for accomplishing it! He went on, in Joshua 8:1 & 2, to say "Do not be afraid; do not be discouraged..." Have you ever noticed how much God says this! I think, many times, we are like Joshua. Our circumstances around us seem so much bigger than God. Perhaps if we would look up, instead of down, we would not be afraid or discouraged!
L - Listen, Learn & Locate
God told Joshua in 8:3 & 4, "Listen carefully..." God is speaking to you today, whatever you situation. It is His plan that He wants to accomplish in you, so He is responsible for the guidance. But, we must listen! I know many of you have heard me share the W - O - R - D - S acronym about how God speaks today... He will speak through His written WORD, through OTHERS, through REVELATION, through DREAMS AND VISIONS, and through your SITUATION or CIRCUMSTANCE. But, you must listen. If you don't believe God can speak to you today, you won't be able to hear Him. But, I believe He is speaking. Let me encourage you to LISTEN! When Joshua heard, then he could LEARN and LOCATE himself in a position to be blessed by God! (8: 4 - 13).
E - Execute from Your Location
Wherever you are, right now, you are in the right place to begin! God has you right where He wants you! Or... maybe not! If not, He is telling you where to go! So, just get there, and BEGIN! Do exactly what He tells you to do! Having trouble hearing? Just get in a quiet place, and ask Him to YELL! HA! Trust me, He will not be silent, unless that is what He is saying to you. Then He will tell you, "It's a silent time!" Whatever God says, just do that! Execute it exactly as He tells you to. I spent two years, recently, just waiting! I had lots of work I was doing, but I was really in a "holding pattern", while God was getting things ready for me! So, I executed a "waiting" pattern, while God got everything ready! Once you ARISE, LISTEN, LEARN, and LOCATE... then it is time to EXECUTE! That's what Joshua did in 8:14 - 23.
R - Receive the Reward
God had a reward for Joshua and all of Israel (8:24 - 27), and He has so many rewards for you. God is good at giving rewards! I just want to encourage you to start today, and the rewards will come.
T - Testify of His Goodness
The whole purpose for everything we do as God's Children is to tell everyone about His goodness! God told Joshua, in 1:7, that He was going to exalt him so that all would know that God was with him. He brought great fame to Joshua (6:27), and Joshua testified of God's goodness! God is not opposed to fame. He simply wants us to use it to bring Him glory. I know that is your heart. It is such a joy, to serve in the Kingdom with servants that are continually testifying of His goodness!
So, how do we AMBUSH THE ENEMY? Stay on our A - L - E - R - T!
©Copyright 2007 by Gary Lanier. All rights reserved.
---
CREATIVE BLESSINGS... | By Valleta Lanier
Each of you are in a "different" walk in your ministry... some are just beginning, some have been serving for many years, and some of you are right in the middle!
Some of you are singers, many are worship leaders, some are writers, some are speakers and teachers, and some are producers and publishers.
You carry with you the vision of the Lord in many different ways.
He has entrusted you with many creative ideas, that will change the world.
He has uniquely equipped you for the tasks that lay before you.
On every turn, the enemy of God seeks to stop you.
I want to encourage you, with the following verses, to let the creative blessings flow, while He fills you full of peace and power.
Psalm 89:15 LISTEN TO THE JOYFUL CREATIVE SOUND WITHIN YOU!
How blessed are the people who know the joyful sound! O Lord, they walk in the light of Thy countenance.
Psalm 45:1 FOR ALL WRITERS!
My heart overflows with a good theme; I address my verses to the King; My tongue is the pen of a ready writer.
Psalm 68:4 FOR ALL SINGERS AND WORSHIP LEADERS!
Sing to God, sing praises to His name; Lift up a song for Him who rides through the deserts, Whose name is the Lord, and exalt before Him.
Psalm 77:6 FOR ALL WRITERS, SINGERS, AND WORSHIP LEADERS!
I will remember my song in the night; I will meditate with my heart; And my spirit ponders.
Psalm 96:1 FOR ALL WORSHIP LEADERS, WRITERS, AND SINGERS!
Sing to the Lord a new song; Sing to the Lord, all the earth.
Psalm 108:1 FOR ALL WORSHIP LEADERS AND SINGERS!
My heart is steadfast, O God; I will sing, I will sing praises, even with my soul.
Psalm 127:1 FOR ALL PUBLISHERS, PRODUCERS, BUSINESS OWNERS, AND PASTORS!
Unless the Lord builds the house, They labor in vain who build it; Unless the Lord guards the city, The watchman keeps awake in vain.
Psalm 134:1 FOR EVERYONE THAT WORKS LONG HOURS, LATE INTO THE NIGHT!
Behold, bless the Lord, all servants of the Lord, Who serve by night in the house of the Lord!
May you continue to experience His abundance!
---
Grace Place International is funded solely
through donations.
Through your donation, GPI is able to produce
Kingdom Life Bible Studies, Bible Study Helps,
Worship Videos, Teaching Videos, and Kingdom Life Music.
The commitment of Grace Place International
is to give these to the world,
FREE OF CHARGE.
As a Companion Ministry to the Body of Christ,
GPI has chosen to give, in an effort to enhance the lives
of Believers around the world, thus fulfilling the plan of
God designed for Grace Place International.