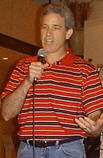 Grace Place Insights
by Mike Stephens
Articles:
I HAVE SOME GOOD NEWS! | By Mike Stephens
No, it has nothing to do with saving a lot of money on your car insurance. As hard as it is to believe, this news is infinitely better!
Have you noticed that good news usually is limited to one situation or circumstance at a time? You may hear from your auto mechanic that your car doesn't need any repairs, but then return home to find that your water-heater has flooded your house. The relief you felt about the first situation is eclipsed by the frustration from the second situation.
In sharp contrast to the above good news/bad news scenario, when God gives good news, it is completely good. It is all-encompassing. It affects every area of your life in a wonderful way.
God's good news is commonly known as "the gospel". The word gospel means "good news". I would like to highlight two verses in the Bible, from which we can gain great insight into this good news. One verse is Acts 20:24 and the other is Romans 1:16.
In Acts 20:24 God further defines for us exactly what good news is. Paul is speaking, and he tells us about his mission from God. The verse states "But I do not consider my life of any account as dear to myself, in order that I may finish my course, and the ministry which I received from the Lord Jesus, to testify solemnly of the gospel of the grace of God." Paul says in this verse that the good news is the grace of God.
What is meant by the phrase "the grace of God"? Books have been written on the subject, but I believe there is still a great deal of confusion about it among Christians. Although volumes of helpful information could be written, I'd like to give you something "pocket-size" that has helped me to understand and apply God's grace in my life.
God's grace is all His power and favor given to us, because we have received Jesus Christ as our Savior. It has nothing to do with how we behave or perform. We can't earn it, nor do we deserve it. Romans 11:6 tells us, "But if it is by grace, it is no longer on the basis of works, otherwise grace is no longer grace." All we can do is receive this awesome favor from God, and thank Him for it! His grace is always available to us. Sometimes we make choices that inhibit us from effectively experiencing His grace in our lives, but those are things we can change!
How can we use this truth about God's good news today? That's where the second verse I mentioned earlier comes in. Romans 1:16 says "For I am not ashamed of the gospel, for it is the power of God for salvation to everyone who believes…" Since we discovered earlier that the word "gospel" is synonymous with God's grace, we can see in this verse that God's grace is His power for salvation to us. The word salvation has direct application to our lives today, in addition to our eternal life in heaven. The Greek word translated salvation here is "soteria". According to Strong's Concordance (and Strong's Dictionary), this word refers to rescuing or delivering, health, safety, and salvation. There is so much more to our salvation than going to heaven when we die! God's grace is His power in our lives, available right now.
I have discovered that God has GOOD NEWS for His children in every area of our lives. His powerful grace is always available to us, to make us victorious in every way. The best way to activate God's grace-power in your life is through understanding your BIRTHRIGHTS, as God's Child. Knowing, believing, and acting on these Birthright truths releases the joyful experience of KINGDOM LIFE! That's why this website and Grace Place International exist. I pray that this helps you, as much as it has helped me!
©Copyright 2008 by Mike Stephens. All rights reserved.
---
KNOW YOUR BIRTHRIGHT | By Mike Stephens
A few days ago, as I sat in the park eating lunch, God drew my attention to a huge oak tree. He reminded me that the tree grew to full size and maturity "automatically". The question then came to mind, "Why doesn't that happen in our spiritual lives, since at the moment of salvation we become new creations?".
God then showed me that our spiritual development isn't automatic like the oak tree's development. As Christians, our regenerated spirit is united with the Holy Spirit (I Corinthians 6:17 says, "But the one who joins himself to the Lord is one spirit with Him"). We already have in us everything necessary for our spiritual growth and development (II Peter 1:3). How then, can we bring the good things that God has placed within us into our earthly experience today?
The next thing God showed me was, to experience the wonderful things He has placed in our spirits, we must KNOW some things. God tells us in Hosea 4:6, "My people are destroyed for lack of knowledge". That is a strong statement that has major implications for our lives. I'd like to invite you to give careful consideration to a couple of BIRTHRIGHT truths that I believe could make a major difference in your life (as they have in mine).
I believe a great place to start is to consider what God says about our nature as His children. If you have received Jesus as your Savior, God's Word tells us that you are a BRAND NEW BEING (I Corinthians 5:17). He says that the old is gone, and all things are new. Romans 6:6 tells us that the person we were, through our birth into this world, was crucified with Jesus. We are not partly old and partly new. We are no longer "in Adam", but we are now "in Christ". Our words and actions will closely follow what we really believe about any topic or situation. Why do we often find ourselves not acting like the new creations that God says we are? It's because we have not been believing what He says about our true nature in Christ, and about His goodness to us. If you don't know (or if you've forgotten) that your old sinful self is dead and gone, you won't fully experience the power of your new life in Christ. Paul says in Romans 6:6 "…knowing this, that our old self was crucified with Him…".
Another truth that will produce victory in your life is, GOD IS FOR YOU! Romans 8:31 says "What then shall we say to these things? If God is for us, who is against us?". If you haven't read the eighth chapter of Romans lately, may I suggest that you read verses 31-39? I believe that you will hear God's message of love and victory for you in these verses. God doesn't put any conditions on His position of being "for us". We can make choices that may limit how much of His favor we take advantage of, but He is always for us. Isn't that great to know?
I've brought out just two truths from God's Word that I believe are essential for us to know. The Bible is loaded with these life-changing truths. The wonderful things He tells us in His Word are describing and explaining the spiritual inheritance that He has given us. They are our BIRTHRIGHT, as His children, because of His love and grace. I encourage you to check out the other articles, music, and information on this GPI website. They all point to more BIRTHRIGHT truths that can help you experience an abundance of life beyond your ability to imagine. At GPI we call that KINGDOM LIFE! And visit the website often, because new things are continually being added!
©Copyright 2007 by Mike Stephens. All rights reserved.
---
Grace Place International is funded solely
through donations.
Through your donation, GPI is able to produce
Kingdom Life Bible Studies, Bible Study Helps,
Worship Videos, Teaching Videos, and Kingdom Life Music.
The commitment of Grace Place International
is to give these to the world,
FREE OF CHARGE.
As a Companion Ministry to the Body of Christ,
GPI has chosen to give, in an effort to enhance the lives
of Believers around the world, thus fulfilling the plan of
God designed for Grace Place International.